Welcome to the Overnight News Digest


(graphic by palantir)

The OND is published each night around midnight, Eastern Time.

The originator of OND was Magnifico.

Regular editors are jlms qkw, Bentliberal, wader, Oke, rfall, JML9999, and chief cat herder NeonVincent; with guest stints from maggiejean and annetteboardman. .

Activist Richard Aoki named as informant -The man who gave the Black Panther Party some of its first firearms and weapons training - which preceded fatal shootouts with Oakland police in the turbulent 1960s - was an undercover FBI informer, according to a former bureau agent and an FBI report.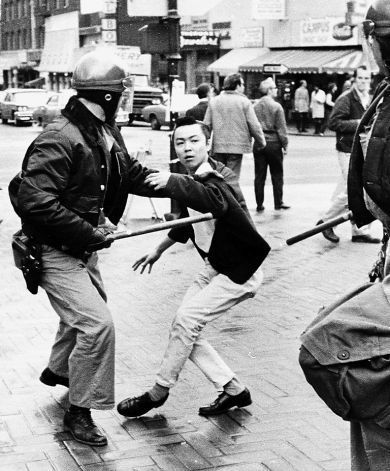 One of the Bay Area's most prominent radical activists of the era, Richard Masato Aoki was known as a fierce militant who touted his street-fighting abilities. He was a member of several radical groups before joining and arming the Panthers, whose members received international notoriety for brandishing weapons during patrols of the Oakland police and a protest at the state Capitol.
Aoki went on to work for 25 years as a teacher, counselor and administrator at the Peralta Community College District, and after his suicide in 2009, he was revered as a fearless radical.
Seth Rosenfeld, Center for Investigative Reporting, via sfgate.com
Photo: Lonnie Wilson, Oakland Tribune / SF
QC Premier Has No Regrets After Cutting Free Speech - Quebec Premier Jean Charest is dropping in the polls, but in the face of a fierce challenge by the Parti Quebecois, he is standing by Bill 78. The bill was enacted by the Liberal government to try to silence student protesters who have taken to the streets to fight tuition increases in the province.
The bill was passed in the National Assembly in late May. It places restrictions on how people are allowed to gather for demonstrations, and allows for students to be fined up to $125,000 for preventing someone from entering a school building – a reaction to those students who were filing injunctions to try and get back to their classes.
The Quebec Bar Association called the bill a breach to the fundamental constitutional rights of the protesters. Students who are opposed to the strike action spoke out against the restrictions in Bill 78. In July, a Quebec human rights commission ruled that the bill violates Canada's Charter of Rights and Freedoms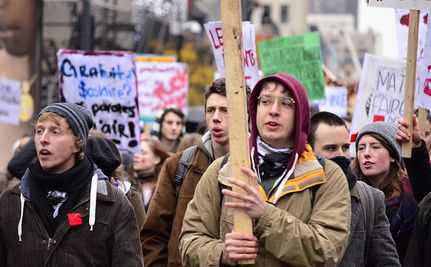 by Amy Boughner, care2 make a difference
Photo Credit: shahk
Rage Against the Machine Raging Against Paul Ryan - Shortly after Rep. Paul Ryan, R-Wis., was picked as Mitt Romney's running mate, it came out that Ryan was a big fan of Rage Against the Machine. While it's not unusual for people around 40 to be fans of the rap metal group, Ryan's love of the band was considered somewhat odd, given that Rage is loudly and openly leftist in their political leanings.
This is the band that featured Leonard Peltier in the video for their seminal hit "Freedom," the band that has been avowedly pro-choice, the band that headlined a show opposite the 2008 Republican National Convention, in which they came on stage dressed as prisoners at Guantanamo Bay. They supported Occupy Wall Street and Mexico's leftist EZLN rebels. To say that they have a somewhat different view of the world than the "pro-life as you get," Medicare-slashing Ryan is an understatement.
Tom Morello, guitarist for the band, made that a flat statement on Thursday, penning an op-ed for Rolling Stone in which he said, "Paul Ryan's love of Rage Against the Machine is amusing, because he is the embodiment of the machine that our music has been raging against for two decades."
by Jeff Fecke, care2 make a difference
Image Credit:Scott Penner
Silversun Pickups Reclaim Song From Romney Campaign - The alternative rock band, the Silversun Pickups, got a lot of unwanted exposure for their song "Panic Switch" this month. The band recently told the Mitt Romney campaign to stop playing their song at events. Rolling Stone reports that the band sent a cease-and-desist order to the campaign demanding they pull the song from events after it was discovered the song had been played during a setup for a campaign event. As singer and guitarist Brian Aubert told reporters this week:
We don't like people going behind our backs, using our music without asking, and we don't like the Romney campaign… We're nice, approachable people. We won't bite. Unless you're Mitt Romney! We were very close to just letting this go because the irony was too good. While he is inadvertently playing a song that describes his whole campaign, we doubt that 'Panic Switch' really sends the message he intends.
Aubert makes a fantastic final point there. T
he lyrics reflect a relationship based on control, manipulation and identity. One line reads, "Could I be anything you want me to be, It's always meant to be seen."
Maybe the Romney campaign was secretly admitting that the whole thing is an act
by Sarah Vrba, care2 make a difference
Photo Credit: Flickr, Brian Teutsch
Counterculture guru Timothy Leary original unpublished manuscript for sale at Bonhams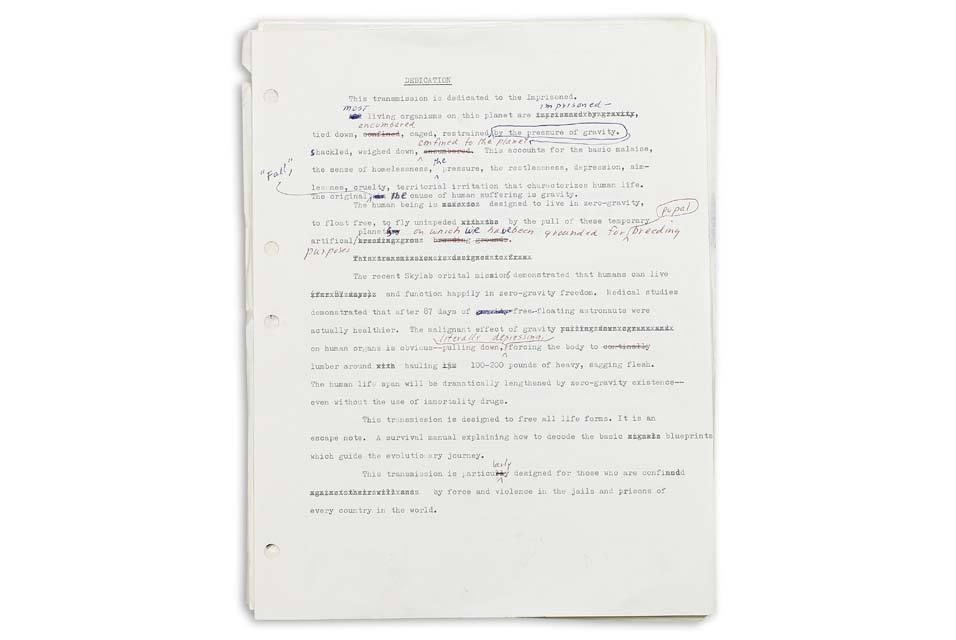 SAN FRANCISCO, CA.- An unpublished and virtually unknown manuscript from psychologist, writer, countercultural guru and provocateur,Timothy Leary, will be sold by Bonhams in San Francisco on October 10th for an estimated $30,000 to $50,000.
Titled The Periodic Table of Energy, and composed while Leary was an inmate in a California state prison, the work explores "correspondences among the Periodic Table of Elements, the Neurogenetic Theory of Evolution, the Tarot, the I Ching, [and] the Zodiac." ... the manuscript represents a major discovery in countercultural literature.
As a clinical psychologist at Harvard in the late 1950s, Leary began conducting research into the use of lysergic acid diethylamide (LSD) in the treatment of personality disorders and in the rehabilitation of criminals. After his efforts led to his dismissal from the university, Leary ... turned his attention to the growing youth movement of the 1960s, promoting the use of LSD and other hallucinogens as a means to achieve higher states of consciousness. Leary's outspoken advocacy of drug use ... prompted Richard Nixon to label him "the most dangerous man in America." It also made him a target of governmental law enforcement agencies, and in 1970, facing a 20-year prison sentence for drug possession, Leary escaped from jail - aided by the Weather Underground - and fled the country. In 1973, he was captured in Afghanistan and returned to the United States, where he began serving time at California Medical Facility, a state prison in Vacaville, Calif., before being transferred to Folsom Prison.
artdaily.org
Photo: Bonhams.
:: ::

Excerpts from an important First Nations New & Views from yesterday. This weekly (Sunday) series is one element in the "Invisible Indians" project put together by navajo and Meteor Blades, with assistance from the Native American Netroots Group.
Oglala Tribal Government Reopens Case of Pine Ridge Deaths: In the late winter of 1973, traditional Oglala Lakota people and members of the American Indian Movement (including Kossacks Carter Camp [cacamp], Madonna Thunder Hawk and me) occupied the village of Wounded Knee over grievances regarding the corruption of the tribal government and the failure of the federal government to fulfill its treaties.
It was the beginning of a siege, a tense, bullet-filled, 71-day stand-off with federal authorities. Once again, a piece of the Great Sioux Nation became ground zero in the bloody struggle between the government and the tribes. Two Indians were killed during the siege and an FBI agent died subsequently of wounds he had received.

Oglala boys at Pine Ridge Reservation (Photo courtesy Aaron Huey)
But after the siege ended, the violence did not end. Local residents and AIM member Milo Yellowhair said: "There had been a tremendous amount of carnage on the reservation [and] it was almost a daily occurrence, when people were disappearing or died or were found dead. We always called it a 'reign of terror.'"
Bad blood between the FBI and AIM has continued to this day, a product of the CoIntelPro operation that targeted African American, Indian and Latino activists with divisive actions, via agents provocateurs and disinformation, other heavy-handed tactics used by the bureau and its contract agents, and the slaying of two FBI agents on the reservation in 1975.
With the leading participants at Wounded Knee now in their 70s, the Oglala Tribal Council has called upon U.S. Attorney Brendan Johnson to look into 45 murders that occurred in the aftermath of the siege. Johnson may or may not turn out to be a good choice. He seems to have a pollyanna view of the FBI, according to reporting by National Public Radio. Both the FBI and AIM deny they had anything to do with the murders.

AIM members like 72-year-old Madonna Thunder Hawk welcome the U.S attorney's review of these old cases, but doubts justice will be served.


"I mean come on, the U.S. government investigating itself, again ... I'm skeptical," Thunder Hawk says. "I'm glad it's happening [and] I'm going to sit here and watch."
She isn't alone in her skepticism.
—Meteor Blades
Happy birthday to cacamp aka Carter Camp (Ponca) who turned 71 yesterday, August 18th. Carter, a long time political activist was one of the original AIM organizers who led the Trail of Broken Treaties Caravan to DC in 1972. He also helped organize the takeover of Wounded Knee in 1973 and held it for 71 days. Carter was in charge of Military Actions. Under his leadership with several others they brought much needed national and international attention to American Indian issues. You can read more about Carter Camp here and also read his writings about Wounded Knee.

—navajo
Sioux Seek to Rescue Sacred Black Hills Site from Auction

By Meteor Blades

A 1942-acre slice of land sacred to the Lakota, Nakota and Dakota (Sioux) people goes on the auction block next Friday. It's Pe' Sla, known to some as "Old Baldy" and "peace at the bare spot" to others. It is one of five sacred sites that make up Lakota pilgrimage and ceremony, and it is closely linked to the constellations, an earthly reflection of the cosmos. It is the only one of the five sacred sites held in private hands—the rest being under federal or state control—and remains relatively pristine, acreage having been used only for grazing cattle over the past 130 years. But developments are closing in on other nearby private land. Read More
Also see MB's current diary on the same subject: http://www.dailykos.com/...

New Protests Rage After Pussy Riot Guilty Verdict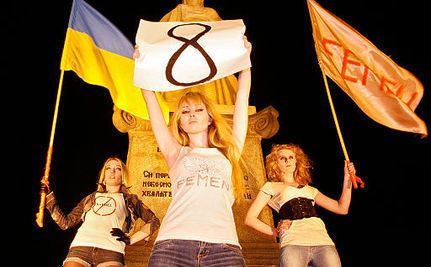 Friday, three members of the punk protest band Pussy Riot were sentenced to two years each for an anti-Putin prayer they performed in a Moscow cathedral in February. They were charged with hooliganism fueled by religious hatred and the judge in the case, Marina Syrovaya, concluded that their feminist projects equalled religious hatred. Human rights groups have been up in arms, calling the sentencing a blow to freedom of expression in Russia.
New feminist protests are already beginning to blossom in the wake of Friday's sentencing. The Pussy Riot community extends far beyond the confines of the three singled-out members, who have borne ill treatment in prison and harsh sentencing with conviction, gusto, and even a few smiles. The larger Pussy Riot protest group released a new song on Friday called Putin Lights Up the Fires.
The Guardian compiled a montage of images to go along with the new Pussy Riot track. The music reflects the empowered sound and structure that have always defined the Pussy Riot movement: feminist empowerment, frustration, and a stand on the political issues in Russia.
Sarah Vrba, care2 make a difference
Photo Credit: FEMEN Women's Movement
Scott McKenzie, singer of 'San Francisco,' dies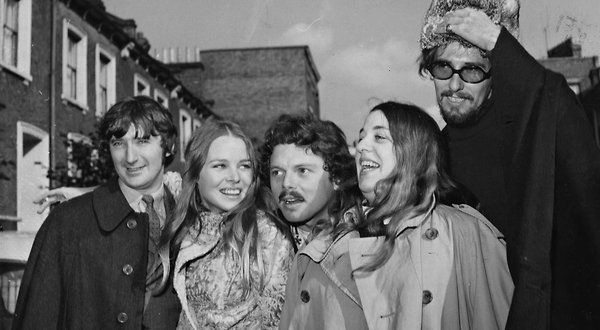 From left, Denny Doherty, Michele Gillian, Scott McKenzie, Cass Elliott and John Phillips in London in October 1967. * Photo Credit: Worth/Associated Press*
Scott McKenzie dies; his 'San Francisco' caught flower-power wave - Scott McKenzie, whose 1967 hit single "San Francisco (Be Sure to Wear Flowers in Your Hair)" captured the spirit of the '60s flower-power movement and became a generational touchstone, has died. He was 73.
McKenzie died Saturday at his home in Silver Lake (Los Angeles), said Matt Pook, a longtime friend and neighbor.. A statement on his website said he had been ill with Guillain Barre Syndrome, a disease affecting the nervous system.
"If you're going to San Francisco, be sure to wear some flowers in your hair," McKenzie gently sang in his biggest hit, written by his longtime friend, John Phillips of the Mamas & the Papas.
Phillips was inspired to write the song by the large influx of young people to San Francisco's Haight-Ashbury district and by the "gentleness and the love that he felt in the hippie movement," said Lou Adler, whose Ode Records released "San Francisco."
"That's where the line 'gentle people' comes from," Adler, who co-produced "San Francisco" with Phillips, told The Times on Sunday. "John Phillips was a poet, and he was able to depict in a lyric a visual of the times. He found the voice in Scott McKenzie that was perfect for it, so smooth and beautiful."
By Dennis McLellan, Los Angeles Times
Photo Credit: Worth/Associated Press