New Orleans Isaac Updates: Food stamps, PODs, Power Outages, Sanitation - NEW ORLEANS, LA — This afternoon, the City of New Orleans provided a status update on clean-up and recovery efforts following Hurricane Isaac. The City is still operating two emergency cooling shelters, and all six POD sites for commodity distribution remain open at this time. Also, the Louisiana Department of Children and Family Services also announced earlier this morning that Orleans Parish residents impacted by Hurricane Isaac may now be eligible for Disaster Food Stamps.
The City also urged residents to continue to exercise an abundance of caution as crews continue clearing debris from the streets and repairing traffic signals throughout the city. Residents are asked to treat intersections with non-functioning traffic signals as a four-way stop and use an abundance of caution while driving. The NOPD will be out in full force throughout the event to enforce the law.
--BayouBuzz.com, Louisiana
FEMA, SBA recovery centers open in St. Bernard, New Orleans - FEMA/State Disaster Recovery Centers (DRC) opened Monday in St. Bernard and Orleans parishes to assist homeowners, renters and business owners who sustained damage to their home or personal property as a result of Hurricane Isaac.

Specialists from the state of Louisiana, the Federal Emergency Management Agency (FEMA) and the U.S. Small Business Administration (SBA) are on hand to answer questions and provide information on the types of assistance available to survivors
Now surge-tested, levees around New Orleans get post-Isaac inspections
Louisiana officials and residents protected by a new 133-mile federal levee system sing its praises for withstanding a storm surge and flooding from hurricane Isaac. Coastal areas outside the system didn't fare so well.
An air boat glides along the Bonnet Carre Spillway in Norco, La., about 30 miles upriver from New Orleans in May 2011. Since hurricane Katrina, Louisiana is protected by a new 133-mile federal levee system. Coastal areas outside the system didn't fare so well in hurricane Issac.
Patrick Semansky/AP
Hurricane Isaac has come and gone. Floodwaters in southeastern Louisiana are receding. For Chris Gilmore, it's time to take initial stock of how his segment of a $14.5-billion, 133-mile defensive wall of earth, steel, and concrete preformed in the first real-world test of post-Katrina improvements in flood protection for New Orleans and portions of surrounding parishes.
Isaac was a minimal hurricane when it made landfall overnight Aug. 28-29. But its large size and excruciatingly slow motion – at one point stalling for hours over the southeastern part of the state – built a surge whose height here at St. Bernard Parish, estimated at between 14 and 15 feet, rivaled the height of the surge Katrina delivered.
The view from the levee top reveals large patches of dead-wood debris lying along the levee's base like so many casualties of a siege assault. Behind the levee and the new pair of massive steel floodgates that close across the four lanes and center median of Louisiana State Road 46, boats on trailers, RV trailers, and even trailers from 18-wheelers are parked along the highway shoulders. They belong to residents who live beyond the levee and who sought its protection for their hard-earned assets.
--By Pete Spotts, Staff writer, Christian Science Monitor
President Obama to survey New Orleans storm damage - On Monday, President Obama will get a firsthand look at the storm damage in New Orleans, visiting one of the hardest hit areas, St. John the Baptist parish.

The president has promised to help the people flooded out. Visiting the area Sunday, Homeland Security Secretary Janet Napolitano echoed the sentiment that the people pushed out of their homes by Issac, aren't in this alone.

Much of a finger-shaped parish southeast of New Orleans was still covered with floodwater Sunday and more than 200,000 people across Louisiana still didn't have any power, five days after Isaac ravaged the state. Thousands of evacuees remained at shelters or bunked with friends or relatives.

The latest power outage numbers in the vaious parishes in Louisiana, according to Entergy.com:

New Orleans 34,048
Jefferson Parish 62,199
St. John the Baptist Parish 7,321
Tangipahoa 2,079
St. Charles Parish 3,090
St. Bernard Parish 2,015
Plaquemines 10,248

--By Brianne Carter, WJLA

UPDATE: Pres. Obama on Isaac: Recovery and Resilience - President Barack Obama landed in The Big Easy (err..Kenner) today, but his true destination was the storm torn St. John the Baptist Parish. For many Louisiana residents, Hurricane Isaac did a lot more than turn off the lights and break the A.C. Residents of St. John the Baptist and Plaquemines Parishes suffered severe damage, and large areas of Louisiana are still submerged. Speaking from LaPlace, Obama lauded the resilience of Louisiana residents and pledged on behalf of the federal government to work towards solving the Gulf Coast's hurricane problems.

Once Obama acknowledged the "enormous devastation," in St. John, Plaquemines, other parts of Louisiana, and Mississippi, he thanked local and federal officials for the work they did to preserve people's lives, and reminded people of the his predecessor's failures in that department.

"I want to particularly thank FEMA and the state and local authorities. Sometimes in the past, we haven't seen the kind of coordination that's necessary in response to these kinds of disasters," said Obama.

--NoLa Defender (AP Photo/Pablo Martinez Monsivais)
Days after Isaac, thousands still in the dark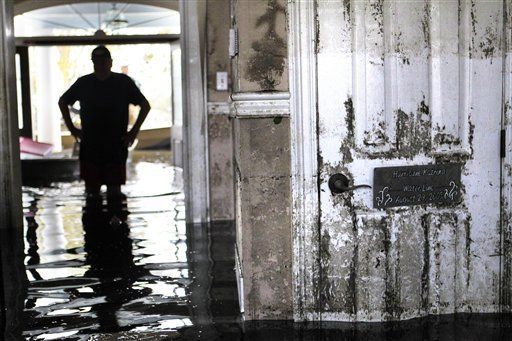 Don Duplantier walks through his flooded home as water recedes from Hurricane Isaac in Braithwaite, La., Sunday, Sept. 2, 2012. In the foreground is a sign marking the waterline from Hurricane Katrina, but floodwater from Isaac went all the way up to the second floor. Gerald Herbert — AP Photo

Greater New Orleans Foundation announces grants to Isaac aid organizations - The Greater New Orleans Foundation announced Monday the availability of $250,000 to nonprofit organizations working to meet the most pressing needs of individuals and families suffering from Hurricane Isaac in the following parishes: Jefferson, Orleans, Plaquemines, St. Bernard, St. John the Baptist, and St. Tammany.

Residents in St. John the Baptist Parish are dealing with the aftermath of Hurricane Isaac still Monday, September 3, 2012. In the LaPlace Park subdivision Dave Royce drags an inflatable raft behind while Thomas Bradshaw and son David Royce, towing kayak, follow. The water is still in homes in the back of the neighborhood.

--Times-Picayune Staff, nola.com. Photo: John McCusker, The Times-Picayune
Army Corps will model Isaac to see whether New Orleans levee improvements worsened flooding elsewhere - The Army Corps of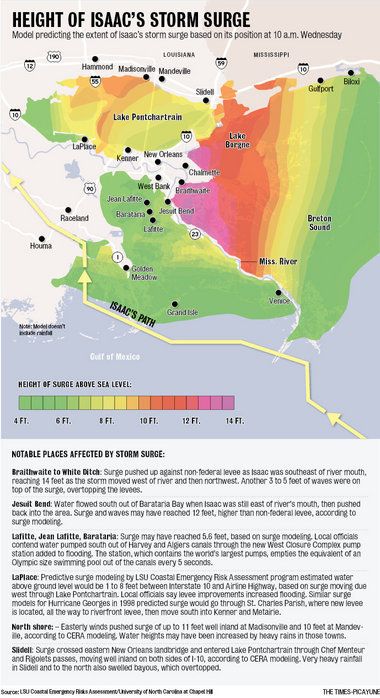 Engineers says it will run computer models to determine whether the New Orleans metropolitan area's new hurricane-protection system exacerbated flooding in areas outside the system that were inundated by Hurricane Isaac's storm surge. Officials in a number of those communities, including Lafitte and St. John the Baptist Parish, have said they believe the improved protection for the city and its inner suburbs helped push the water into areas outside the system ...
The statement, from corps spokesman, refers to the claims of exacerbated flooding in areas outside the system as "speculation" and notes that "the footprint of the new (Hurricane and Storm Damage Risk Reduction System) is essentially the same as what was in place prior to Hurricane Katrina."
It also notes that the corps did "extensive modeling" of the surge barrier placed at the Inner Harbor Navigation Canal, and the modeling "demonstrated that the structure caused insignificant unintended consequences."
--By Gordon Russell, The Times-Picayune, nola.com
Gallery: Hurricane Isaac aftermath Sunday September 2, 2012 (5 photos)

John Hyman celebrates his 73rd birthday will listening to music by Yvette Voelker and her sit in band at the Spotted Cat on Frenchman Street, Sunday September 2, 2012. The popular music club lost power on Tuesday and decided to reopen Friday with generator power. DAVID GRUNFELD / THE TIMES-PICAYUNE
==================
Thanks for reading the Overnight News Digest


(graphic by palantir)
The OND is published each night around midnight, Eastern Time.
The originator of OND was Magnifico.
Regular editors are jlms qkw, Bentliberal, wader, Oke, rfall, JML9999, and chief cat herder NeonVincent; with guest stints from maggiejean and annetteboardman.