Memos show US hushed up Soviet crime - WARSAW, Poland (AP) — The American POWs sent secret coded messages to Washington with news of a Soviet atrocity: In 1943 they saw rows of corpses in an advanced state of decay in the Katyn forest, on the western edge of Russia, proof that the killers could not have been the Nazis who had only recently occupied the area.
The testimony about the infamous massacre of Polish officers might have lessened the tragic fate that befell Poland under the Soviets, some scholars believe. Instead, it mysteriously vanished into the heart of American power. The long-held suspicion is that President Franklin Delano Roosevelt didn't want to anger Josef Stalin, an ally whom the Americans were counting on to defeat Germany and Japan during World War II.
Documents released Monday and seen in advance by The Associated Press lend weight to the belief that suppression within the highest levels of the U.S. government helped cover up Soviet guilt in the killing of some 22,000 Polish officers and other prisoners in the Katyn forest and other locations in 1940.
A memorial to the victims of Katyn, the Soviet massacre of 22,000 Polish officers in 1940, in Warsaw, Poland pictured on Monday, Sept. 10, 2012. On Monday the U.S. National Archives is releasing about 1,000 newly declassified documents related to Katyn. Some shed further light on decades of suppression of Soviet guilt within the U.S. government. The cover-up began during World War II when the U.S. needed the Soviets to defeat Germany and Japan, and continued on some level long after. Photo: Czarek Sokolowski / AP
--RANDY HERSCHAFT, Associated Press, VANESSA GERA, Associated Press via SFGATE
Welcome to the Overnight News Digest


(graphic by palantir)

The OND is published each night around midnight, Eastern Time.

The originator of OND was Magnifico.

Regular editors are jlms qkw, Bentliberal, wader, Oke, rfall, JML9999, and chief cat herder NeonVincent; with guest stints from maggiejean and annetteboardman. .

Court blocks S.F. warning on cell phones - A federal appeals court blocked San Francisco on Monday from requiring cell phone dealers to tell customers the products may expose them to dangerous levels of radiation, saying the city can't force retailers to pass along messages they dispute.
The ordinance, the first of its kind in the nation, had been scheduled to take effect last October, but has remained on hold during an industry challenge
--Bob Egelko, sfgate.com
Senate Dem leader mocks Ryan on marathon time math - The Senate Democratic leader mocked Republican Paul Ryan for misstating his marathon time, saying the vice presidential candidate's math doesn't add up on running or budgets.
Sen. Harry Reid, who has run 15 marathons and several half marathons, opened the Senate session on Monday with criticism of Ryan, who had to correct his initial claim of running a marathon in "two hour and fifty-something" after records showed it was just over four hours.
Reid suggested that if he took his time in the 1972 Boston Marathon — three hours, 16 minutes — and adjusted based on Ryan's approach, he would have turned in a stellar performance.
--DONNA CASSATA, sfgate.com
More planets could harbour life - Scientists have developed models to help them identify planets in far-away solar systems that are capable of supporting life.
Estimates of habitable planet numbers have been based on the likelihood of them having surface water.
But a new model allows scientists to identify planets with underground water kept liquid by planetary heat.
The research was presented at the British Science Festival in Aberdeen.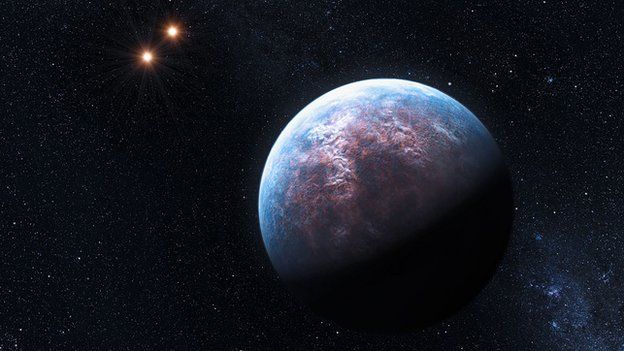 --By Jonathan Ball BBC News
Google sued over Bettina Wulff search results - The wife of the former German president has included Google in legal action to stop rumours about her private life.
When the name Bettina Wulff is typed into Google's search engine, suggested search terms include the words "prostitute" and "red light district".
Google says the auto-generated text reflects what others are already searching for online.
Mrs Wulff denies she has ever worked as a prostitute.
German newspaper Süddeutsche Zeitung reported Mrs Wulff had given a sworn declaration denying all allegations relating to prostitution or escort work before her marriage.
-- BBC
Mars rover captures self-portrait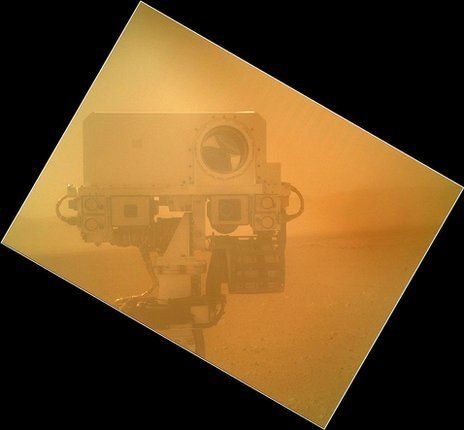 The angle of the frame reflects the position of the camera
Nasa's Curiosity rover has taken a self-portrait on the Martian surface, using a camera on its robotic arm.
The photo is fuzzy because the dust cover has not yet been removed.
Engineers had been using the navigation and mast cameras to check out instruments and tools on the end of the rover's robot arm.
--BBC
Teachers' Strike in Chicago Tests Mayor and Union - CHICAGO — This city found itself engulfed on Monday by a sudden public school strike that left 350,000 children without classes, turned a spotlight on rising tensions nationally over teachers' circumstances, and placed both the powerful teachers' union and Mayor Rahm Emanuel in a risky, politically fraught standoff with no clear end in sight.
Thousands of teachers dressed in red swarmed through downtown and marched outside of schools across the city in this, the nation's third-largest school system, as families raced to find alternative child care — an available relative, a city-sponsored day-care program, anything — for classes they had learned were called off only hours before the week began.
The strike, Chicago's first in 25 years and the first in a major city in a half-dozen years, also revealed a rift between unions and Mr. Emanuel, a Democrat and former chief of staff to President Obama, raising the prospect that a lingering strike in the president's hometown might become an issue in a presidential election year when Democrats depend on the backing of labor.
--By MONICA DAVEY nytimes
Romney Camp Seeks to Head Off Post-Convention Anxieties - President Obama raised more money in August than Mitt Romney did, outpacing him for the first time since the spring and adding to a sense in both parties that Mr. Obama is entering the post-convention sprint to Election Day in a slightly stronger position, leaving Mr. Romney with less than two months to change that dynamic.
With some nervousness apparent among Republicans, Mr. Romney's campaign rushed out a memo on Monday stating that any post-convention polling lift for Mr. Obama was "a sugar high" that would not last the next few weeks, let alone to Election Day.
--By JIM RUTENBERG and JEFF ZELENY
Ecuadoreans Close Ranks in Assange Standoff - GUAYAQUIL, Ecuador — Juan José Illingworth has English bona fides that are hard to beat. He is the sixth-generation namesake of an Englishman who became one of Ecuador's national heroes, fighting for independence from Spain, helping to lead the young nation, founding its naval academy and drafting the law that freed the country's slaves.
But for all of Mr. Illingworth's keen appreciation of his family's ties to the old sod, when the British authorities threatened last month to enter Ecuador's embassy in London to seize the asylum-seeking founder of WikiLeaks, Julian Assange, his sentiments went decidedly against Mother England.
"I've always believed that an embassy is a bulwark of protection," said Mr. Illingworth, a software executive and a former legislator. "England cannot violate that."
By WILLIAM NEUMAN, nytimes
Excerpts from an important First Nations New & Views from yesterday. This weekly (Sunday) series is one element in the "Invisible Indians" project put together by navajo and Meteor Blades, with assistance from the Native American Netroots Group.

Details of Pe' Sla Land Deal Still Under Wraps as Negotiations with Owners Continue
By Meteor Blades

Mahpiya holds the poster designed by

Shepard Fairey to support the purchase of Pe' Sla

in the Black Hills at a rally held in Rapid City

on Sept. 5, 2012.
Some 250 supporters of Sioux efforts to buy a 2000-acre piece of land in the heart of the Black Hills
rallied
Wednesday, Sept. 5, in Rapid City, South Dakota, to celebrate their second victory. The first was to stop a public auction of the land they call sacred, the second was reaching a preliminary agreement with the land owners and coming up with enough money for a down payment. What happens next is uncertain.
The specifics of the final price have not been released publicly by either the Rosebud Sioux Tribe, which has been carrying on the negotiations, or the owners, Leonard and Margaret Reynolds. The tribe put up $1.3 million for the land they call Pe' Sla, and the Last Real Indians had raised more than $300,000 when the preliminary deal was made. As of the time this diary was written, they had raised $389,000. Besides the private donations and the Rosebud Sioux's pledge, other tribes of the Oceti Sakowin, the Seven Council Fires of the Great Sioux Nation, have said they will contribute, but none has made the amount publicly known. If $6 million, the lowest estimate of what the auction was estimated to have brought, is what is agreed upon, more than $4.3 million is still needed.
Ruth Hopkins (Sisseton-Wahpeton/Mdewakanton/Hunkpapa) of Last Real Indians explained recently why buying this land matters:

To the Oceti Sakowin [the Seven Council Fires of the Great Sioux Nation], Pe' Sla is The Heart of Everything. Not only does this sacred site play a key role in our creation story, it is said to be the place where The Morning Star plunged to earth, and saved the People from seven creatures who had killed seven women. The Lakota hero then placed those women in the night sky as "The Seven Sisters," called "The Pleiades" by western astronomers.
The core of the Pe' Sla acreage was homesteaded in 1876 by Leonard Reynolds's great-grandfather when the land was the property, under the provisions of the Fort Laramie Treaty of 1868, of the tribes of the Great Sioux Nation. In the wake of the battle of the Little Big Horn, Congress broke the treaty, taking the Black Hills and other lands. In 1980, the U.S. Supreme Court ruled that the land had been taken illegally and ordered $17.5 million in compensation plus more than a century of interest for a total of $106 million. But the tribes unanimously rejected the money, fearing that accepting it would mean they would forever lose the Black Hills. Compound interest over three decades has turned that money, held in trust, into an accumulation of more than $1.5 billion.
On display at the Rapid City rally was a 20-foot by 80-foot banner by artist Shepard Fairey depicting an young Oglala dancer and the words, "The Black Hills Are Not For Sale," and photographs by Aaron Huey, whose images from the Pine Ridge Reservation of South Dakota were included in a cover story in National Geographic magazine.
One speaker at the Rapid City rally, Chase Iron Eyes (Standing Rock Sioux)—the founder of Last Real Indians who initiated the fund-raising project after the auction was announced—expressed cautious optimism: "The Rosebud Sioux Tribe has placed earnest money down towards the purchase of Pe' Sla, but it is not a victory yet—the fight isn't over. But, this is a huge success, because it buys us time."
Robin Lebeau, tribal councilwoman from the Cheyenne River Reservation, urged continuing unity in the effort to ensure that Pe' Sla does not fall into the hands of developers: "Something historic has happened. We have united as the Lakota, Dakota, and Nakota people when some said that we wouldn't come together […] I'm asking you [fellow tribal members] to call your presidents, your chairmen, your spiritual leaders, your treaty groups. We have to keep working to come together for Pe' Sla."

•
Native American DNC Delegates Say Obama Speech "Electric"
: At least
161
American Indian delegates attended the Democratic National Convention in Charlotte, North Carolina, last week. They far outnumbered all previous delegate turnouts at the party's conventions. Five of Montana's 31 delegates, for example, were Indian: state Sen. Sharon Stewart-Peregoy (
Crow)
, Latonna Old Elk (
Crow
), Catherine "Buffy" Stewart (
Crow
), state Sen. Carol Juneau (
Hidatsa-Mandan
) and her daughter, State Superintendent of Public Instruction Denise Juneau (
Hidatsa-Mandan
), the first American Indian woman ever elected to statewide office in the United States. Also included were two tribal chairmen, Mark Macarro, the chairman of the Pechanga Band of Luiseño Indians, and Bill John Baker, the principal chief of the Cherokee Nation.
Nina Fowler (Navajo) told National Native News radio: "Goodness, this is so energizing [...] and the thickness of the excitement in this place is amazing. It's like just a big party. [...] Indian Country is really in a lot of ways federal laws and just are really tangled up. And [Obama has] got to untangle them in order for him to help Indian Country. But he has been able to accomplish a lot."

—Meteor Blades
• Indian at Dem Convention Says Elizabeth Warren Should Take DNA Test: Ever since the right-wing Boston Herald dug into Massachusetts Senate candidate Elizabeth Warren's claims that she has Cherokee and possibly Delaware (Lenape) ancestry, some Indians have sought an audience with her to ask that she either verify the claims or repudiate them and apologize. She has chosen not to meet with them and she did the same at the Democratic Convention last week. Some Indian delegates at the convention told The New York Times that she could easily set the whole controversy to rest. Karen Geronimo (Mescalero Apache), whose husband Harlyn Geronimo is a great-grandson of the famous 19th Century warrior, said, ""Someone needs to make her take a DNA test." Said Lexie LaMere (Winnebago), a Nebraska delegate: "If you're going to be Native, don't just be Native on paper. What's troubling is that she's shown nothing in her history of being involved in Native American issues."

—Meteor Blades
• Party Platforms on Native Peoples: Here is what the Democrats have to say:

Tribal Sovereignty: American Indian and Alaska Native tribes are sovereign self-governing communities, with a unique government-to-government relationship with the United States. President Obama and Democrats in Congress, working with tribes, have taken unprecedented steps to resolve long-standing conflicts, finally coming to a resolution on litigation—some dating back nearly 100 years—related to management of Indian trust resources, administration of loan programs, and water rights.


The President worked with Democrats to pass the HEARTH Act to promote greater tribal self-determination and create jobs in Indian Country. The Affordable Care Act permanently reauthorized the Indian Health Care Improvement Act to improve care for Native Americans. Democrats enacted the Tribal Law and Order Act, support expansion of the Violence Against Women Act to include greater protection for women on tribal lands, and oppose versions of the Violence Against Women Act that do not include these critical provisions. We will continue to honor our treaty and trust obligations and respect cultural rights, including greater support for American Indian and Alaska Native languages. Democrats support maximizing tribal self-governance, including efforts for self-determination and sovereignty of Native Hawaiians.
Here is what Republicans
have to say
:
Honoring Our Relationship with American Indians


Based on both treaty and other law, the federal government has a unique government-to-government relationship with and trust responsibility for Indian Tribal Governments and American Indians and Alaska Natives. These obligations have not been sufficiently honored. The social and economic problems that plague Indian country have grown worse over the last several decades; we must reverse that trend. Ineffective federal programs deprive American Indians of the services they need, and long-term failures threaten to undermine tribal sovereignty itself.

American Indians have established elected tribal governments to carry out the public policies of the tribe, administer services to its tribal member constituents, and manage relations with federal, State, and local governments. We respect the tribal governments as the voice of their communities and encourage federal, State, and local governments to heed those voices in developing programs and partnerships to improve the quality of life for American Indians and their neighbors in their communities.

Republicans believe that economic self-sufficiency is the ultimate answer to the challenges confronting Indian country. We believe that tribal governments and their communities, not Washington bureaucracies, are best situated to craft solutions that will end systemic problems that create poverty and disenfranchisement. Just as the federal government should not burden States with regulations, it should not stifle the development of resources within the reservations, which need federal assistance to advance their commerce nationally through roads and technology. Federal and State regulations that thwart job creation must be withdrawn or redrawn so that tribal governments acting on behalf of American Indians are not disadvantaged. It is especially egregious that the Democratic Party has persistently undermined tribal sovereignty in order to provide advantage to union bosses in the tribal workplace.

Republicans recognize that each tribe has the right of consultation before any new regulatory policy is implemented on tribal land. To the extent possible, such consultation should take place in Indian country with the tribal government and its members. Before promulgating and imposing any new laws or regulations affecting trust land or members, the federal government should encourage Indian tribes to develop their own policies to achieve program objectives, and should defer to tribes to develop their own standards, or standards in conjunction with State governments.

Republicans reject a one-size-fits-all approach to federal-tribal-State partnerships and will work to expand local autonomy where tribal governments seek it. Better partnerships will help us to expand economic opportunity, deliver top-flight education to future generations, modernize and improve the Indian Health Service to make it more responsive to local needs, and build essential infrastructure in Indian country in cooperation with tribal neighbors. Our approach is to empower American Indians, through tribal self-determination and self-governance policies, to develop their greatest assets, human resources and the rich natural resources on their lands, without undue federal interference.

Like all Americans, American Indians want safe communities for their families; but inadequate resources and neglect have, over time, allowed criminal activities to plague Indian country. To protect everyone—and especially the most vulnerable: children, women, and elders—the legal system in tribal communities must provide stability and protect property rights. Everyone's due process and civil rights must be safeguarded.

We support efforts to ensure equitable participation in federal programs by American Indians, including Alaska Natives, and Native Hawaiians and to preserve their culture and languages that we consider to be national treasures. Lastly, we recognize that American Indians have responded to the call for military service in percentage numbers far greater than have other groups of Americans. We honor that commitment, loyalty, and sacrifice of all American Indians serving in the military today and in years past and will ensure that all veterans and their families receive the care and respect they have earned through their loyal service to America.
•
Oglala Lakota Alternative Rock Duo "Scatter Their Own" Performs at Pe' Sla Rally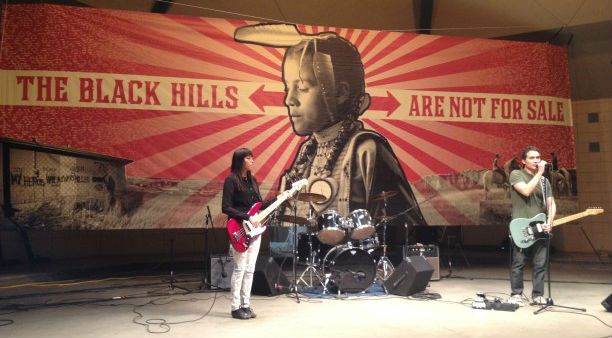 Juliana BrownEyes and Scotti Cliff of Scatter Their Own on Sept. 5th ~Photo Courtesy of Chase Iron Eyes