Welcome to the Overnight News Digest


(graphic by palantir)

The OND is published each night around midnight, Eastern Time.

The originator of OND was Magnifico.

Regular editors are jlms qkw, Bentliberal, wader, Oke, rfall, JML9999, and chief cat herder NeonVincent; with guest stints from maggiejean and annetteboardman. .


( Irfan Khan / Los Angeles Times / October 3, 2012 )
Paul Chavez, son of the late labor leader Cesar Chavez, kneels at his father's grave in Keene, Calif. The site where the elder Chavez lived, worked and is buried is now a national monument.
Obama: 'Today we celebrate Cesar Chavez' - KEENE, Calif. (AP) — President Barack Obama on Monday designated the home of Latino labor leader Cesar Chavez as a national monument, calling Chavez a hero who brought hope to millions of poor, disenfranchised farm workers who otherwise might have remained "invisible" to much of the nation.
""Today, we celebrate Cesar Chavez," Obama said at a ceremony at La Paz, the California farmhouse where Chavez lived and worked for more than two decades. "Our world is a better place because Cesar Chavez decided to change it."
Chavez, who died in 1993 at age 66, is buried on the site where the monument was dedicated. His widow, Helen, still lives there.
The 187-acre site, known as Nuestra Senora Reina de la Paz (Our Lady Queen of Peace), or simply La Paz, was the union's planning and coordination center starting in 1971. Chavez and many organizers lived, trained and strategized there.
Obama's action designates 105 acres at the site near Bakersfield, Calif., as a national monument, the fourth monument he has designated under the Antiquities Act.
--BEN FELLER, AP White House Correspondent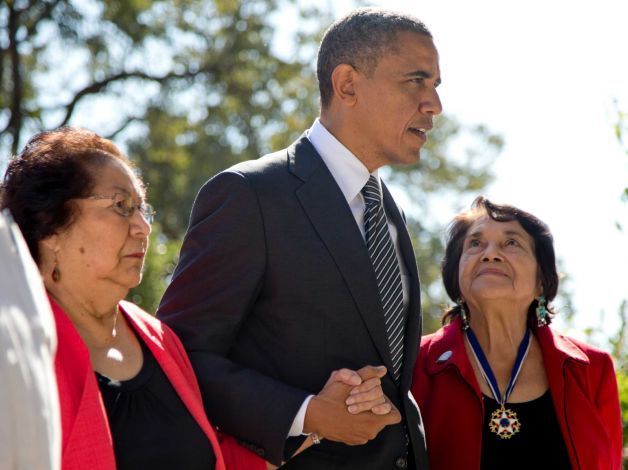 President Barack Obama walks with Cesar Chavez' widow Helen F. Chavez, left, and Dolores Huerta, Co-Founder of the United Farm Workers, as they tour the Cesar E. Chavez National Monument Memorial Garden, Monday, Oct. 8, 2012, in Keene, Calif. Photo: Carolyn Kaster / AP
Cesar Chavez dedication: About 1,000 invitations rescinded - The struggling United Farm Workers union usually has a tough time attracting a crowd at its Kern County events.
But on Monday morning, it had its hands full with more than 7,000 people who had traveled long distances to witness President Obama's dedication of the three-acre Cesar E. Chavez National Monument in the Tehachapi Mountains between Bakersfield and the Mojave Desert where Chavez was buried.
...
As of Monday, about 1,000 people who registered for invitations saw them rescinded by the UFW and Chavez foundation.
... the crowd at the site was the biggest since Chavez died in 1993. "Clearly, we all underestimated the passion people have for Cesar, the farm workers union and the opportunity to see the president," he said.
Roughly a third of the people in attendance were farm workers who arrived in 32 buses chartered by the UFW. Hundreds more, including schoolchildren from across the Central Valley, came in buses chartered by the National Park Service.
...Over the weekend, the UFW and Chavez foundation officials sent out emails to thousands of people hoping to dissuade them with reminders of the long distances and tedious waits that would be involved.
"Almost no one changed their minds about coming here," Grossman said.
---- Louis Sahagun, L.A. NOW (la times blog)

President Barack Obama announces the establishment of the Cesar E. Chavez National Monument, Monday, Oct. 8, 2012, in Keene, Calif. The property is recognized worldwide for its historic link to civil rights icon Cesar Chavez and the farm worker movement. Photo: Mark J. Terrill / AP
Syria Rebukes Turkey as Artillery Fight Continues - Syria escalated tensions with Turkey on Monday, accusing its neighbor and former friend of imperialist delusions reminiscent of Ottoman dynastic rule, as Syrian Army gunners exchanged artillery blasts with their Turkish counterparts across the border for the sixth consecutive day.

nsurgent sympathizers and the Syrian government described an extremely violent day in the nearly 19-month-old uprising in Syria. In unverified accounts, killings and destruction were reported in the cities of Aleppo, Homs and Dara'a and in northern Idlib Province, where members of the rebel Free Syrian Army claimed to have discovered a massacre committed by security forces at a makeshift prison.

In Damascus, there were reports that a suicide attacker had detonated a bomb near a government intelligence compound.

--By RICK GLADSTONE, nytimes.com
Liftoff! SpaceX Dragon Launches 1st Private Space Station Cargo Mission - CAPE CANAVERAL, Fla. – A privately built rocket lit up the night sky over Florida Sunday (Oct. 7) to kick off the first-ever cargo delivery trip to the International Space Station by a robotic, American-made spacecraft.
The unmanned Dragon space capsule, built by the commercial spaceflight firm SpaceX, roared into space atop the company's Falcon 9 rocket from a launch pad here at the Cape Canaveral Air Force Station, beginning a three-day flight to the space station. Liftoff occurred at 8:35 p.m. EDT (0035 Monday GMT).
The mission is the first of a dozen SpaceX cargo flights under a $1.6 billion deal with NASA for its Commercial Resupply Services program. This flight, being the first mission, is dubbed SpaceX CRS-1 and is expected to arrive at the orbiting lab on Wednesday morning
--by Tariq Malik, livescience.com
"The law was designed to prevent illegal immigrants from getting professional licenses. It has led to weeks of waiting time."
Georgia Law Requiring Proof of Legal Residency Creates Licensing Backlog - ATLANTA — For nurses, hair stylists, kickboxing instructors and even geologists, Georgia's desire to clamp down on illegal immigration is having an unintended side effect.

Things are so jammed at the secretary of state's office that renewing a state license for some of the 200 professions that require one is taking weeks instead of days. For some brand-new nurses, the wait for a license can stretch into three months.

The reason is a new law that went into effect at the beginning of the year. It requires people seeking professional licenses to prove they are in the United States legally.

That means people who used to renew online must now find and send in what the state deems a secure and verifiable document: a copy of a driver's license, a passport, a green card or other government-issued ID.

-- KIM SEVERSON, nytimes
"A proposed 75 percent tax in France is being protested by many of the nation's wealthiest executives, including some who had called for higher taxes. "
Welcoming Higher Taxes, but Not That High - Paris — A little over a year ago, some of the most prominent and wealthy executives in France signed a petition seeking higher taxes on themselves. Yes, higher taxes.
"We are conscious of having benefited from a French system and a European environment that we are attached to and which we hope to help maintain," wrote the group, which included the chief executives of Air France-KLM and Société Générale, and the billionaire heiress to the L'Oréal fortune, among others. "When the public finances deficit and the prospects of a worsening state debt threaten the future of France and Europe and when the government is asking everybody for solidarity, it seems necessary for us to contribute."
You may know what happened next: François Hollande, the country's socialist president, proposed a 75 percent marginal tax rate on all income over $1.3 million. (The highest marginal tax rate on the first $1.3 million would be 45 percent, up from 41 percent.) Marginal tax rates on capital gains would rise to as much as about 60 percent.
--By ANDREW ROSS SORKIN, nytimes
Radicalism Prompts Warnings in France - PARIS — Jewish and Muslim leaders here warned on Monday of rising anti-Semitism among young Muslims, two days after the police arrested 11 men and fatally shot one in raids in a handful of cities aimed at young radical French Muslims.

President François Hollande met with Jewish and Muslim leaders on Sunday and promised tighter security at Jewish religious sites. He said that a new law would soon make it a crime to travel to militant training camps. "Nothing will be tolerated; nothing should happen," Mr. Hollande said in a statement. "Any act, any remark will be prosecuted with the greatest firmness."

News of the raids added to the anxieties of France's Jewish and Muslim populations, which were already unnerved by the killings in March of three French service members, a rabbi and three Jewish children in the Toulouse region by a French Muslim who had trained with Islamic militants in Pakistan. Muslim and Jewish spokesmen say they worry about the domestic expansion of radical Islam.

--MAÏA de la BAUME, nytimes
Egypt's President Mursi pardons 'revolutionaries' - Egypt's President Mohammed Mursi has pardoned all those arrested during last year's popular uprising that ousted the country's former leader Hosni Mubarak.
A post on the president's official Facebook page announced an amnesty for deeds "committed with the aim of supporting the revolution".
The decree could lead to the release of several thousand people.
Mubarak stood down in February last year following an 18-day uprising in which hundreds of protesters died.
He is currently serving life in prison
--BBC
IMF warns global economic slowdown deepens, prods U.S., Europe - The IMF said the global economic slowdown is worsening as it cut its growth forecasts for the second time since April and warned U.S. and European policymakers that failure to fix their economic ills would prolong the slump.

Global growth in advanced economies is too weak to bring down unemployment and what little momentum exists is coming primarily from central banks, the International Monetary Fund said in its World Economic Outlook, released ahead of its twice-yearly meeting, which will be held in Tokyo later this week.

"A key issue is whether the global economy is just hitting another bout of turbulence in what was always expected to be a slow and bumpy recovery or whether the current slowdown has a more lasting component," it said.

--By Emily Kaiser and Lesley Wroughton, Reuters
Analysis: Cities hit by recession ask voters to approve more debt - Houston-area schools want to borrow $1.9 billion to modernize most of the high schools, while Seattle says it needs $290 million to upgrade a seawall protecting the downtown waterfront so it can withstand an earthquake.
San Francisco wants to sell $195 million of debt to repair and improve worn-out parks and playgrounds that it says have been "loved to death"
Voters in these and a number of other big U.S. cities -- some with already-high debt loads -- will decide on Election Day whether to borrow even more or face prospects for reduced services or higher taxes.
The United States needs $2 trillion of infrastructure upgrades, according to a 2011 report by the Urban Land Institute and Ernst & Young. Many of these roads, bridges, dams, water and sewer plants serve major metropolitan areas, but the recession left many cities struggling to pay for capital projects and services.
--By Joan Gralla, Reuters