Given its dismal performance in the last elections, one would think that California's GOP would be looking for any way possible to expand its base:

Having sunk to its lowest depths in its 159-year history, the California Republican Party's first order of business at this weekend's convention will be to lick its wounds.

The state party is still reeling from humiliating defeats in November that gave Democrats two-thirds majorities in the Assembly and state Senate. It's $500,000 in debt and doesn't even have offices for its staff, which has dwindled to a handful of employees who work from home. The GOP's only gubernatorial prospect for 2014 is a conservative assemblyman who was once a border vigilante. And Republican voter registration in the state is at an all-time low of 29.3 percent.

... An essential question, political analysts say, is whether GOP activists are ready to explore the depths of their troubles, starting with repairing their awful reputation among Latinos and other minorities.
But when faced with the candidacy of accomplished San Francisco lawyer Harmeet Dhillon, who is female and a devout Sikh, for the office of Republican party state vice-chair, members of the state's Republican base have made her
"the target of a nasty racist effort to slur her as a Muslim terrorist sympathizer and a 'Taj Mahal princess.'"
:
Dhillon, currrently chair of the San Francisco GOP, immigrated from India as a child and is a devout Sikh. She's wrapping up a campaign to become the party's vice chair, an election which will be held Sunday as the state GOP wraps up its three day convention in Sacramento

Vera Eyzendooren, the president of the San Bernardino County Federation of Republican Women — an official party group — slammed Dhillon in a recent Facebook post, which included a photo of an Islamic terrorist who beheaded two people.

"I was told by one of Harmeet's friends that because of her religion, her loyalty is to the Muslim religion," Ms. Eyzendooren wrote on Facebook. "So she will defend a Muslim beheading two men without any hesitation……she is not a Republican."

...

San Francisco GOP activist Gail Neira, in a recent widely circulated letter, wrote: "This particular woman candidate for state v.p. appears to see herself as the dowager princess with the CAGOP as her Taj Mahal."

Whoa - how to even begin unpacking this?
Let's start with Religion 101 - because she's a devout Sikh her loyalty is to the Muslim religion? GOP Fail number 1: check.
But beyond that, haven't we been reading for months that Republicans have a demographic problem? Here they have a chance to expand their base, but the existing base instead launches a GOP civil war.
Eyzendooren later deleted her facebook post, but its screenshot lives on.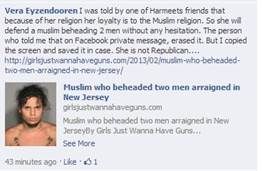 Party officials tried to undo the damage, saying "Blatant racism has no place in the party of Lincoln. We strongly denounce this hateful speech in this and any other venue." but it remains to be seen if they can save her candidacy.
This who is being rejected by Republicans:
Harmeet Kaur Dhillon, is an experienced business trial lawyer, trusted boardroom advisor, and passionate advocate for individual, corporate and institutional clients across numerous industries and walks of life. She has been awarded the prestigious designation of Northern California Super Lawyer in business litigation by Thomson/West Publishing, an accolade reserved for the top 5% of lawyers in the jurisdiction. From an early interest in constitutional litigation, to a stint at the Department of Justice, to a decade of practice at prestigious international law firms, to founding Dhillon & Smith in 2006, Harmeet's legal career has been marked by a passion for justice, a zeal for attacking legal challenges, and an intense sense of satisfaction in helping her clients realize creative and practical solutions to seemingly intractable problems.
"Oh if only she were a white male!"
I don't know much about her, but if her track record continues to include accomplishments like this ...
Harmeet's clients at Dhillon & Smith have included e-Commerce leaders, private companies, entrepreneurs, celebrities, film and music artists, authors, advertising executives, franchisees, public utilities, educational institutions and nonprofits. She has won numerous awards and recognition for her pro bono legal work on behalf of domestic violence survivors, religious discrimination plaintiffs, and political refugees
... she might want to consider changing parties.
Until then, we should sit back and enjoy the notion that it's the Republicans who are forming the circular firing squad.